Improvements are coming to the FAST Program!
Dear FAST participants,
We're excited to let you know that we are launching a new version of FAST! To improve your user experience, the FAST program is launching a new, more streamlined format of our assessment and learning modules on November 1, 2023 for the following streams: Accounting & Finance, Biotechnology & Life Sciences, and IT & Data Services .
What's changing?
Currently, the two modules that you should complete – Prepare for Work in Canada and your industry-specific assessment module – are accessible under two separate tiles, Get Started and Get Assessed.

Starting on November 1, 2023, both modules will be combined into a single, consolidated module, making it easier for you to access and complete all lessons and assessments with fewer clicks. If you are registered in the IT & Data Services or Biotechnology & Life Sciences streams, you will also find all Get Designated resources in this new, consolidated module.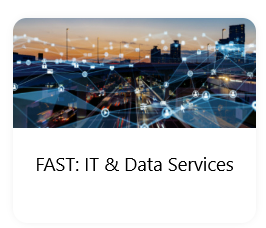 The new module structure will look like this: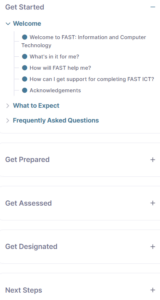 What does this mean for you?
Due to the integration of learning and assessment modules, any progress in unfinished modules will be reset on November 1, 2023, and you will need to start completing all lessons and assessments from the beginning.
However, rest assured! You will NOT lose your progress if you complete the modules and get your FAST Certificate of Completion before 11:59 PM on October 27, 2023. Your achievement will then be transferred to the new consolidated module, and you will be able to revisit the content or access your certificate any time.
We encourage you to sign back in today to complete your FAST journey! If you have any further questions, please contact our team at fastcanada@iecbc.ca.